Posted on January 7, 2020 by
In keeping with the tradition of publishing a New Year's list that highlights the most widely read stories of the prior year, here is our listing of the top stories that appeared in Librarian News in 2019. What do you suppose it says about the libraries of the future that by far and away the most read item was about Maintaining Connections in a Virtual Library?
---
Posted on October 23, 2019 by Joseph Lamport
Casetext keeps leading the way by introducing powerful new applications of AI in the legal research market. This week they announced the roll out of CARA Patent, a new product that leverages the power of AI technology to transform patent law research.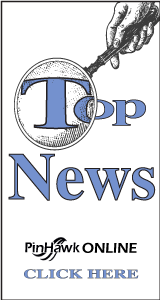 Most Recent Issue
Turning Our Attention . . . Kind of
As we bring yet another week to a close, we finally have somewhat of a break in the pandemic news. I suspect this has more to do with a technical hiccup than lack of attention by writers and bloggers. Whatever the cause, I can live with it for a day. I dare say that it is a refreshing change of pace as I sit here in self-imposed exile. Today we feature two entries from tech guru Bob Ambrogi. Both focus on steps being taken by vendors to expand their business and offerings. As they say, the show must go on. I, for one, am glad that it is! I hope you are all are staying well and staying safe. Take it away, Bob...
- | | | -
Ready for a weekend breather,
John J. DiGilio, MLIS, JD, Co-editor of Librarian News Digest
Firmwide Director of Research Services, Sidley Austin LLP
Founder & Editor, informed.JD
Phone: 323.459.4999
LinkedIn Profile: www.linkedin.com/in/johndigilio/
Blog: Pinhawkblog.com
Twitter: @pinhawkhappens
Note: Any opinions expressed are solely my own and are not intended to reflect those of my employer or affiliated organizations.